So I was reading some good stuff on the FOW site and saw this project and decided to try it out. I havent been a fan of the FOW smoke and flames and thought they always looked to fake. Here is a run down of how to make them.
First, use some fine wire and twist until there is a small loop at the end.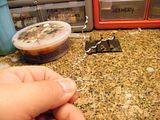 Next,
Attach the wire via super glue to a coin
After is this is done, work in small sections and apply clump foliage with super glue.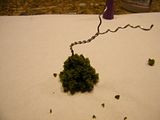 Work you way up a little at a time....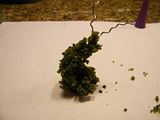 Until all the wire is covered.......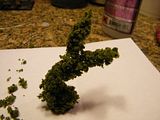 Then, make a mixture of dishsoap, water and PVA glue and aplly to the plume. Make sure to really soak it well. you want it to dry hard.....
Allow it to dry very well. Next step is to paint it and highlight it, but you will have to wait until tomorrow for this.
Cheers,
Hirsh
So here is the finished product from the smoke and flames project. The pieces were base coated with german gray and topped with a little black. They were then highlighted with red, hot orange and yellow. The tops were highlighted with codex gray and fortress grey. I think in all they look great, but i probably should have used more PVA glue when soaking then since they are still a little spongy. In all, it was a fun project that turned out well and didnt cost but $5 to make tons of these.